Are you holding back on getting contact lenses because you don't know what to expect during a contact lens eye exam? Before a contact lens exam, you'll need a regular eye exam to check up on your eye health and see if you are a candidate for contact lenses.
What Happens During a Contact Lens Eye Exam?
At your contact lens exam, your eye doctor will ask you about your medical history, concerns you may have, and your preferred lifestyle. This information is needed to find out if these factors could affect your ability to wear contact lenses comfortably.
During your contact lens exam, your eye doctor will take several measurements to determine the right type, material, and size of contact lenses for your eyes. Because your eyes are unique, the correct fit is essential for comfort and clear vision.
If you have a prescription for eyeglasses, this prescription will not work for your contact lenses because the lenses sit on your cornea (the transparent front part of the eye) compared to eyeglass lenses that sit farther away.
After the contact lens exam, your eye doctor may discuss contact lens options with you to help you decide which best supports your lifestyle and vision needs. Contact lens types vary from disposables to extended wear, such as daily or monthly. Once you've chosen your contact lenses, they may provide a trial pair for you to test out.
During this time, you can monitor how comfortable the lenses feel. If everything feels good, a follow-up appointment can finalize your prescription.
Why You Need a Contact Lens Exam
Contact lenses can make life easier for those who find glasses cumbersome; even children as young as 8 years old can wear contact lenses successfully. But contact lenses can lead to other problems if not properly cared for, so it's important to find the right lens for you and follow any instructions your optometrist provides. A contact lens exam and fitting allows you to try different lenses until you find the right one.
Dry eyes may also be a possibility when wearing contact lenses. If you're concerned about dry eyes, you can discuss this with your eye doctor and find a style of contact that is less likely to cause dry eyes, such as daily disposables. Your optometrist can also recommend a cleaning and wear schedule best suited to your eyes to help minimize your symptoms.
How Often Should You Have a Contact Lens Exam?
You should have a contact lens exam at least once a year for the following reasons:
Monitor lens fit
Monitor dry eyes
Provide an up-to-date prescription
Check up on your eye health
Can You Order Contact Lenses Online?
Buying contact lenses online before discussing the style and brand with your eye doctor can come with risks because every contact lens product is unique, as are your eyes. One size does not fit all.
You can order contact lenses online once you've had an eye exam and received a prescription through your eye doctor. The advantages of doing this include convenience and competitive pricing.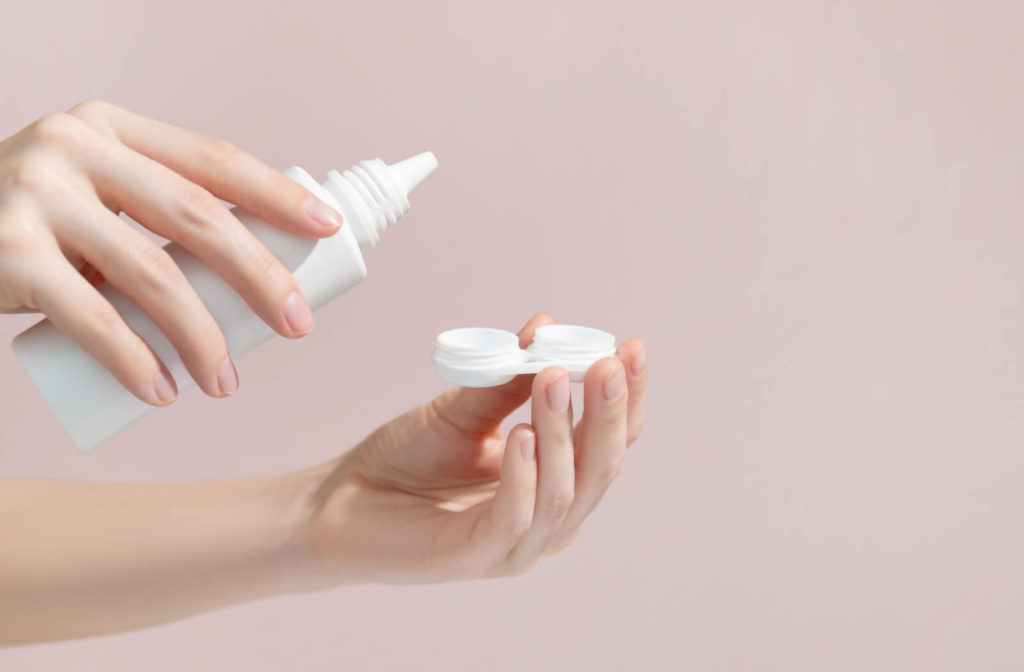 Caring for Your Contact Lenses
Caring for your lenses can help prevent contact lens-related eye issues. Here are a few ways to take care of your contact lenses:
Wash your hands with soap and water before touching your contacts.
Clean and disinfect your lenses according to your eye doctor's direction or manufacturer's instructions.
Replace your contacts as recommended.
Replace your contact lens storage case every 3 months.
Avoid topping off the lens solution.
Use a lens solution for your lens type.
Don't shower, sleep, or swim with your contact lenses.
If you experience blurry vision or pain with your contact lenses, remove them immediately. Contact your eye doctor if symptoms persist even after removing them. For this reason, you may want to carry a backup pair of eyeglasses, just in case.
The Right Contacts for Your Eyes
Contact lens eye exams are as important as regular eye exams to support healthy eyes and comfortable vision. Are you looking to make the switch to contact lenses? We will provide the care and guidance you deserve as well as the options you will appreciate when it comes to ordering your new lenses.Book an appointment with our LMC eye doctors and start your glasses-free journey today.