Eyeglasses are no longer considered as simply a medical necessity. There has been a perception that glasses make you look smarter, but today people wear glasses to step up their style.
Of course, your eyeglasses provide you with corrected vision, however, there is not denying that the choice of frame can enhance your style as well as reflect your personality.
Trendy styles for men and women this year will be those oversized frames that exude distinct and bold designs. Geometric frames, clear frames, large glasses, and thin-metal frames are emerging eyewear trends in 2023. Classic tortoise-shell frames and vintage aviator and cat-eye shapes have withstood the test of time and continue to be popular modern styles in the coming year.
Top 7 Eyewear Trends In 2023
1. Cat-eye frames. This frame style looks great on most women regardless of their face shape. It is a prominent look for 2023 and this classic shape will bring a fresh and contemporary look with angles that accentuate facial features and enrich your look.
2. Round frames. Small round glasses are still one of the most significant eyeglass frame styles in 2023. Round shapes balance out angular face types and enhance ordinary features. This popular style suites men and women of all ages and it is also an ideal shape to choose if you have a very high prescription.
3. Eco-friendly frames. There is an increasing trend of people opting for a more sustainable life. The year 2023 is not an exception. The trend for sustainable frames will continue to grow this year, with various manufacturers using eco-friendly materials to make eyeglasses. Still other manufacturers opt to donate a portion of their products to third world countries.
4. Square retro frames. This 70s frame style is on trend this year. This shape is especially flattering on a round face as the angles in the frame add dimension and interest. Today's square frames have more rounded angles to soften the look for both men and women.
5. Geometirc frames. These glasses get their name from their hexagonal and octagonal shapes and they are currently at the forefront of fashion. Whether you are looking for something subtle or bold, these sharp angles will transform your face.
6. Wire/Metal frames. Metal frames are making a comeback but for a younger age group that has likely never seen the original, more utilitarian styles. Oversized metal frames can create a minimalist illusion especially when the frames come in classic metallic colors. For prescriptions with thin lenses or low prescriptions, metal frames can work quite well.
7. Tortoise-shell frames. These classic frames are actually produced in a variation of colours that span the tortoiseshell category. The production process can offer unique patterns where no other frame can quite be replicated. These frames can take you from subtle to stunning and they are the definition of distinct style.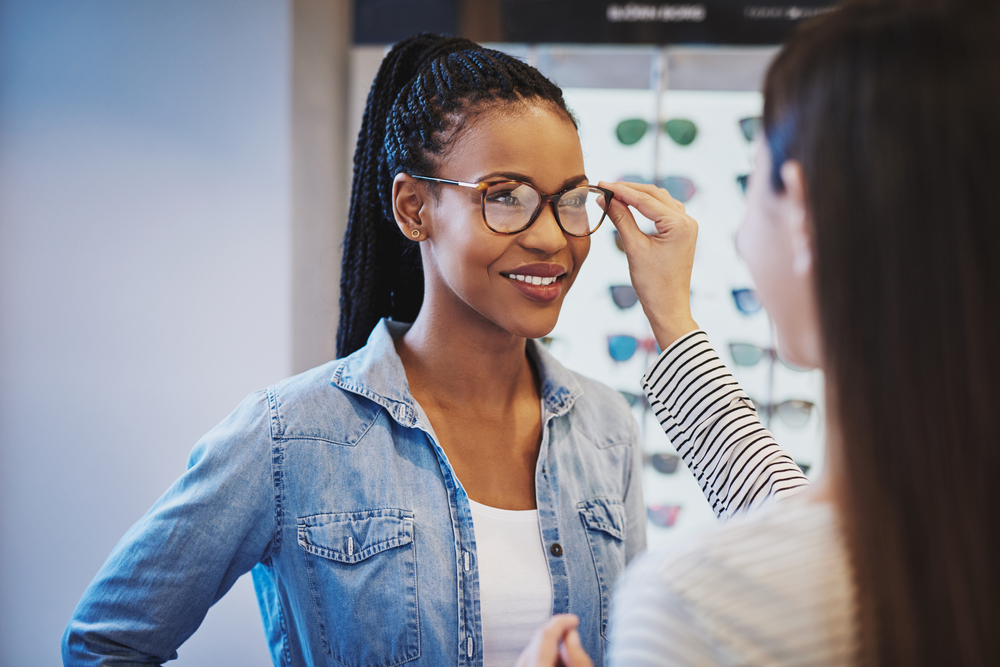 Two things to consider when choosing a frame:
Identify your face shape. The frame shape will significantly affect your look. Eyeglasses should enhance and accentuate your face without overpower it. Make sure you select a frame style that gives contrast to your facial features. Our trained professional are happy to help educate you along the way to choosing the best fitting frame that also allows your personality to shine through. Take our quiz to find out which frames are best for your face shape!
Frame colours are also essential. Shop in person, this way you can always try out various colours for your frames before buying them. As an example, black frames may seem like an easy choice, but the colour and shape combination may appear too severe. Similar to frame shapes, the colour should contrast your skin tone, either cooler or warmer tones.
Your eyeglasses frames should look great on you. Our team at LMC Optometry is happy to help you find the perfect frames to match your face shape and style.