Switching From Glasses to Contact Lenses? We Can Help!
The demand for contact lenses continues to grow in Canada as people look for an alternative to traditional glasses.
There are many reasons why you might want to switch to contact lenses. You might be changing up your style and wanting a glasses-free look, or you might be tired of rain and water spots on your lenses. If you're an avid player of sports or an outdoor adventurer, you might want the freedom from worrying about your glasses slipping and falling during intense activities.
Whatever your reasons for wanting contact lenses, our optometrists are available for fittings. Give us a try—even if you weren't satisfied with a previous contact lens experience. We'll work with you to find the perfect lens.
Contact lenses are a medical device. These tiny pieces of plastic sit on the cornea, float on your tear film, and correct your vision errors.
You might even get a heightened level of vision correction from contacts, owing to their close proximity to your eye. They work with the shape of your eye and provide more natural vision correction than glasses.
Some people choose to wear contact lenses every day, while others prefer to wear them for special occasions or during exercise. Your optometrist will help you determine the type of lens best suited to your lifestyle and needs.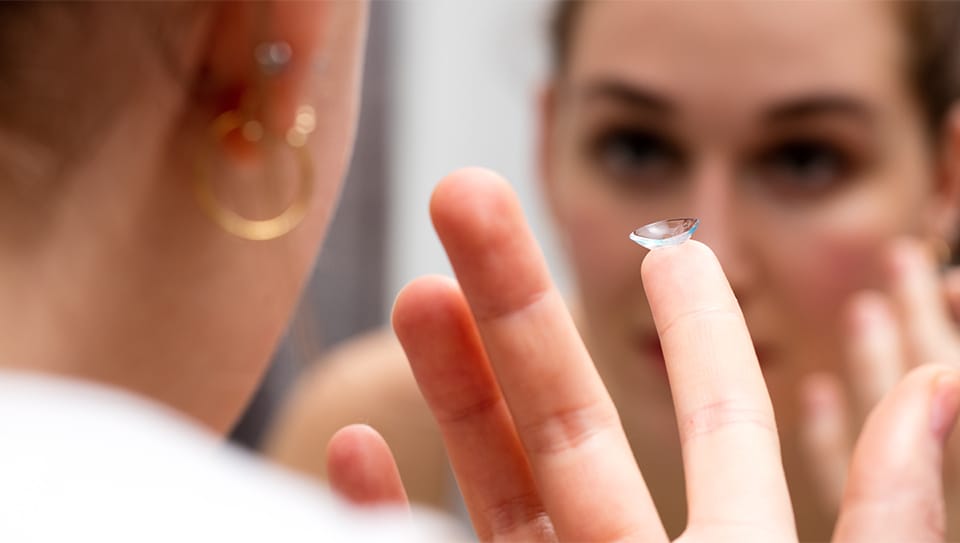 Types of Contact Lenses
Contact lenses come in many varieties, with a wide range of options to suit each lifestyle. Soft contact lenses are made in either disposable or extended wear varieties. If you choose to go with disposable lenses, you'll have the choice of daily or monthly versions.
If you require something a little more durable than soft contact lenses, you might consider rigid gas-permeable lenses. Rigid gas-permeable lenses may provide clearer and crisper vision, but you might sacrifice some comfort, particularly as you get used to them.
We also offer lenses for myopia control. MiyoSmart Lenses and MiSight Daily Lenses have been shown to slow the progression of myopia (nearsightedness) significantly.
If you have dry eyes or other conditions like astigmatism, you might require specialty contact lenses. We will be happy to provide options for your specific situation. No matter what, it's imperative that your lenses fit you properly.
Contact Lens Fittings
Contact lenses are medical devices that require professional expertise to ensure an appropriate fit. At your appointment, we'll take a series of measurements to help determine the best contact lenses for your eyes.
Your optometrist might use keratometry to measure the curvature of your cornea. This measurement ensures the lens sits properly on your eye. We might also use corneal topography to get a more detailed view of the corneal surface.
Additionally, we may use a biomicroscope (slit-lamp) or ruler to measure your pupils and irises. These measurements help determine the right type of lens for the size and shape of your eye.
Ordering Contacts Lenses Online
If you are considering buying your contact lenses online you may want to consider some factors before proceeding. You want to ensure that you do have a valid prescription, and you have had an eye exam within the last year to ensure your prescription is up to date.
At LMC Optometry and Eye Care we have our 24/7 online store where existing patients can re-order their contact lens prescriptions. We offer incredible pricing and array of brands!
Book Your Contact Lens Consultation Today!
While contact lenses are widely tolerated, they don't work for everyone. Make sure they're the right fit for your lifestyle—and your eyes—by making an appointment for a contact lens consultation today.
"Service is always fast. Staff are friendly. Dr. Blackstein has taken excellent care of me since I began seeing him."
Lori Cutler – Vaughn
"The Optometrist explained everything to us and did a very thorough exam. She was very helpful and patient, and answered all of our questions."
Deborah Cormack – Barrie
"Staff was happy and friendly. It was a pleasure to see, think I will return in a year for another check up."
Michael Kondring – Barrie
"Dr M Sher was really good."
Jim Gray – Vaughn
"Very good customer service."
Johnny Geniole – Barrie