When it comes to correcting your vision, there are usually two camps; those who prefer contact lenses and those who prefer wearing eyeglasses. While contact lenses can be an excellent solution for your vision correction, they aren't always right for everyone. That's why when considering a form of vision correction, you should always look at the pros and cons.
Contact lenses can be convenient, can give you clear vision without making any changes to your aesthetic, and can be safer during physical activity. But they can also irritate some eyes and they may require more maintenance than traditional eyeglasses.
Before making any decision, you should visit your optometrist for an eye exam so you can work together to weigh the pros and cons to determine if contact lenses are right for you.
Pro: They Improve Your Vision
Contact lenses are designed to correct many different and common vision problems like:
With their design, contact lenses can even offer a wider field of view compared to glasses. By sitting directly on the eye, they follow the eye's movement to give you clear and stable vision. This makes contact lenses an excellent option for correcting refractive errors.
Con: They Can Irritate Some Eyes
Despite the benefits they offer, contact lenses may not be comfortable for everyone. Because they directly touch the surface of your eye, some people experience:
Extended wear contact lenses also require a fair deal of maintenance. If you don't clean or store your contacts directly, they can even cause eye infections that can lead to more irritation. Your optometrist can provide tips and instructions on maintaining healthy contact lens hygiene.
Pro: Contacts Are Convenient
The convenience offered by contact lenses is undeniable. They don't fog up in cold weather or get wet in the rain. They're ideal for people who live an active lifestyle, since they can't be knocked off the face and broken like traditional glasses. They also allow you to wear protective equipment like safety glasses without getting in the way.
In fact, you'll probably forget you're wearing them most of the time. Whether you're working, playing a sport, or going for a jog, these lenses offer clear vision in an unparalleled way.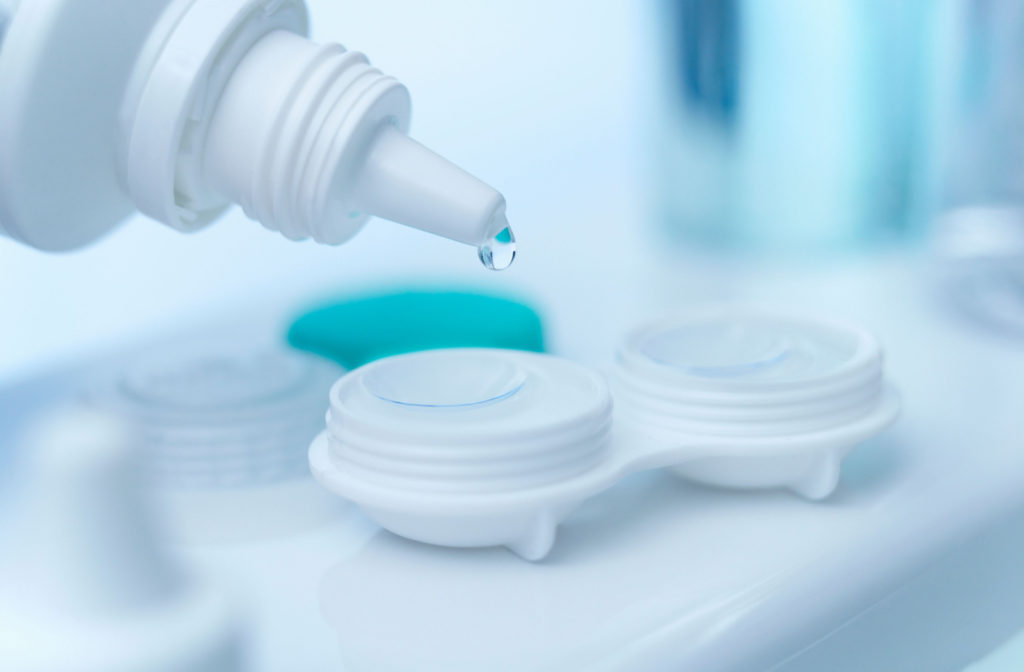 Con: Some Contacts Require More Maintenance
While wearing contact lenses can be incredibly convenient, they do require more care than traditional eyeglasses. Since contact lenses come into direct contact with the surface of your eye, they must be properly cared for. Contact lenses come in many modalities which refers to the wearing schedule. Contacts with a weekly or monthly wearing schedule will require the most maintenance. Contact lens care for extended wear contact lenses includes:
Cleaning and disinfecting them daily
Storing them in a clean lens case filled with fresh contact solution
Replacing them as recommended
Taking them out to sleep and bathe
By following a strict care routine for your contacts, you can reduce the potential risk of developing an eye infection or irritating your eyes.
Pro: They Don't Interfere with Your Look
One of the largest benefits provided by contacts is that they're nearly invisible. Unlike glasses—which everybody can see—contacts offer a way to show off your face and natural eye colour.
With contact lenses, you can wear non-prescription sunglasses, any form of decorative eyewear, and they don't cover things like makeup or piercings you may want to show off.
Pro: Daily Disposable Lenses
This type of lens modality refers to lenses that are only meant to be used for a single day. You will open a fresh pack of lenses in the morning and dispose of them before bedtime. With this type of lens you completely eliminate the cleaning, maintenance and storage of your lenses as they are only meant for single daily usage.
This convenience however does come at a higher cost. You will find that daily disposable lenses are more expensive than extended-wear contacts.
Con: They Aren't Suitable for Everybody
While contacts can be an excellent solution, they aren't suitable for everyone. If you have overly sensitive eyes or find yourself reacting to the material, they can potentially cause some degree of discomfort.
Certain eye conditions like severe dry eye disease might make wearing contact lenses uncomfortable. That said, there are a variety of lens types and materials available, so if one type isn't working for you, discuss your concerns with your eye doctor as they may have a better alternative for you!
Lifestyle can also be a factor when choosing contact lenses or glasses. For example, contact lenses and water don't mix. If you swim often or are exposed to water on a daily basis, contact lenses might not be the best choice for you. If you work in a particularly dusty or dirty environment, particles can build up on the surface of your contacts and cause irritation. In this case, eyeglasses or safety glasses might be necessary.
Oftentimes, people choose to wear contact lenses for special occasions or on the weekends, and use their trusty eyeglasses for daily wear. If contact lenses aren't the right fit for your work life, they could still be an option for when you want to show off a more natural look.
Contact Lenses vs. Eyeglasses
Contact lenses and eyeglasses each have their unique benefits and drawbacks. Contact lenses provide a natural appearance and unrestricted field of view. contacts will require regular cleaning and maintenance; while the convenience of daily disposable lenses can be costly. On the other hand, while eyeglasses are easier to care for, some people find that they constantly notice the frames, or that their peripheral vision can be distorted. Eyeglasses can be an inconvenience for people while playing sports, making contact lenses a great alternative for those with an active lifestyle.
Before determining the right solution, you should visit your optometrist. They can perform a comprehensive eye exam and help you determine the best way to correct your vision.
Find What's Right for You
The choice between contact lenses and eyeglasses depends on your personal situation. The best part is that you don't have to choose if you don't want to—you can have both!At LMC Optometry & Eye Care, our team is committed to helping you make the right decision for your lifestyle. Our team of experienced staff provide comprehensive exams, fittings, and recommendations to help you get the right contacts for your eyes. We can help you have a positive experience when it comes to contact lenses. We're here to help correct your vision in whatever way feels most comfortable to you. Book an appointment with us today!